To set up the review feature, access your company settings.
Then click on the Reviews tab.
You can decide whether you want your customers and contacts to leave private or public reviews.
Private reviews: allow your customers to rate, out of 10, how much they would recommend your business.

Public reviews: allow your customers to leave a public review on your Facebook or Google business pages.
Connect your Reviews to your Facebook and Google business pages directly in Kimoby.
To connect your account to your Google business page, click on Connect to Google.

Connecting your Facebook account to Kimoby is done on Facebook. Simply click on Connect to Facebook and you will be redirected to Facebook to merge both accounts together.

Once Facebook and Google are connected to Kimoby, you can choose to define when you want to offer your customers and contacts the opportunity to give you a public review or not.
You can select from a picklist the conditions to display your public page.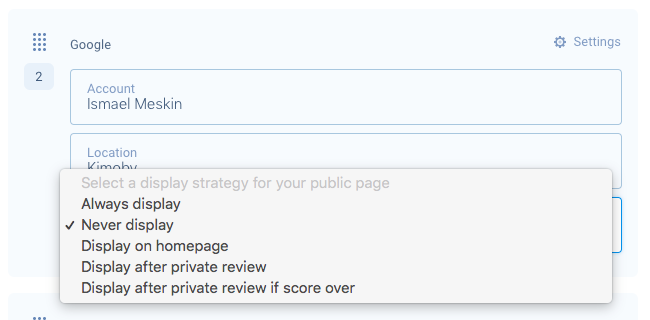 In the example below, your contacts will be given the option to give a public review on your Google business page every time they give a score of 9 and higher.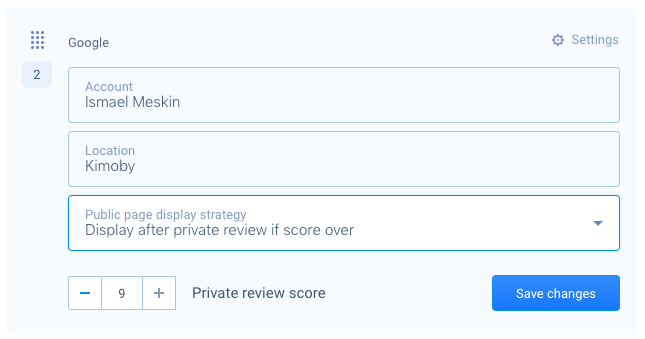 You can customize your review page in Kimoby.
Choose your background and highlight colors. Click on the pen by the color pastille and pick the color you want. Then click Choose.

You can customize the message that appears on the page. Adjust your message to ask for a review.
Click Show preview to see the page your customers will see.
Once your changes are done, click Save changes.
You are all set! Now you can send review requests!