About the Integration
Protractor's Integration with Kimoby is fully featured, offering you the greatest experience using Kimoby.
Synchronization
All of the Data from Protractor is synchronized with Kimoby through the Protractor.Net Integration Web Service. This allows Kimoby to synchronize with Protractor through only One-Way Synchronization. This means Kimoby pulls Data from Protractor but cannot push Data back into Protractor.
Example: If you create an Appointment within Kimoby, it will not be created in Protractor.
Kimoby has a Sync cycle with Protractor where it automatically detects if there has been any additions or changes in the system and updates accordingly.
Kimoby has two different types of Synchronization;
The initial Synchronization
This synchronizes:
Appointments: all existing appointments with your customers including those from the past

Events (Repair Orders Closed): all repair orders closed within the last 5 years with your customers.
The 15-Minute Synchronization
Every 15-minutes, Kimoby will search Protractor to find Data that might have been added. Specifically, it syncs:
Appointments: all appointments with your customers since the last synchronization up to 1 (one) month from now

Events (Repair Orders Closed): all repair orders closed with your customers since the last synchronization.

Phone numbers: all phone numbers containing "mobile", "Mobile, "cell", "Cell", "text" or "Text" in their fields will be associated with cell phone numbers.
This means Kimoby keeps up to date with all actions taken within Protractor every 15 minutes.
Integration Installation
In this section, you will learn how to start and complete an Integration with Kimoby.
1. Click on Setup in the top menu bar of Protractor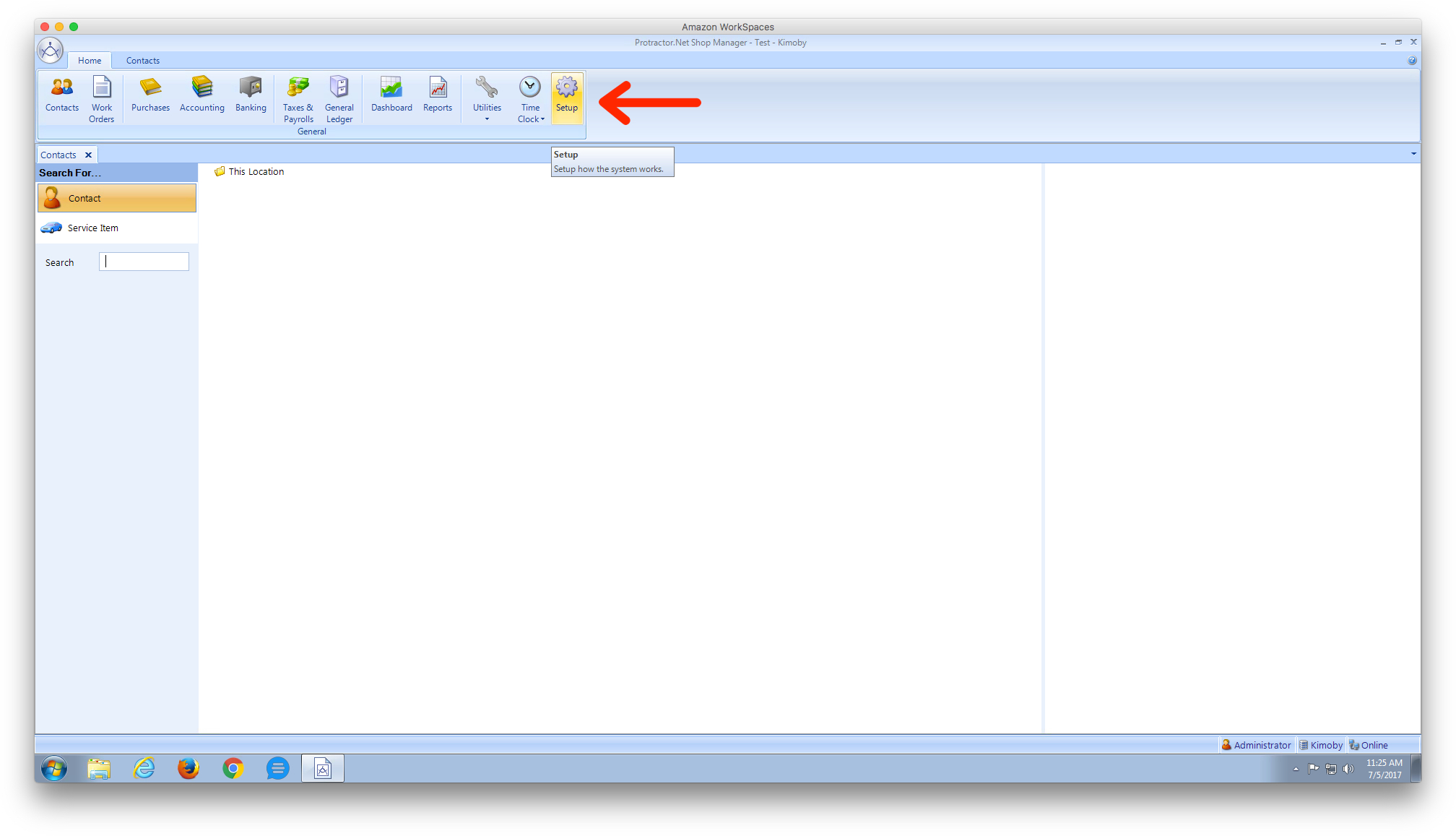 2. In the side menu, scroll down to "Integrated Services" and click on it.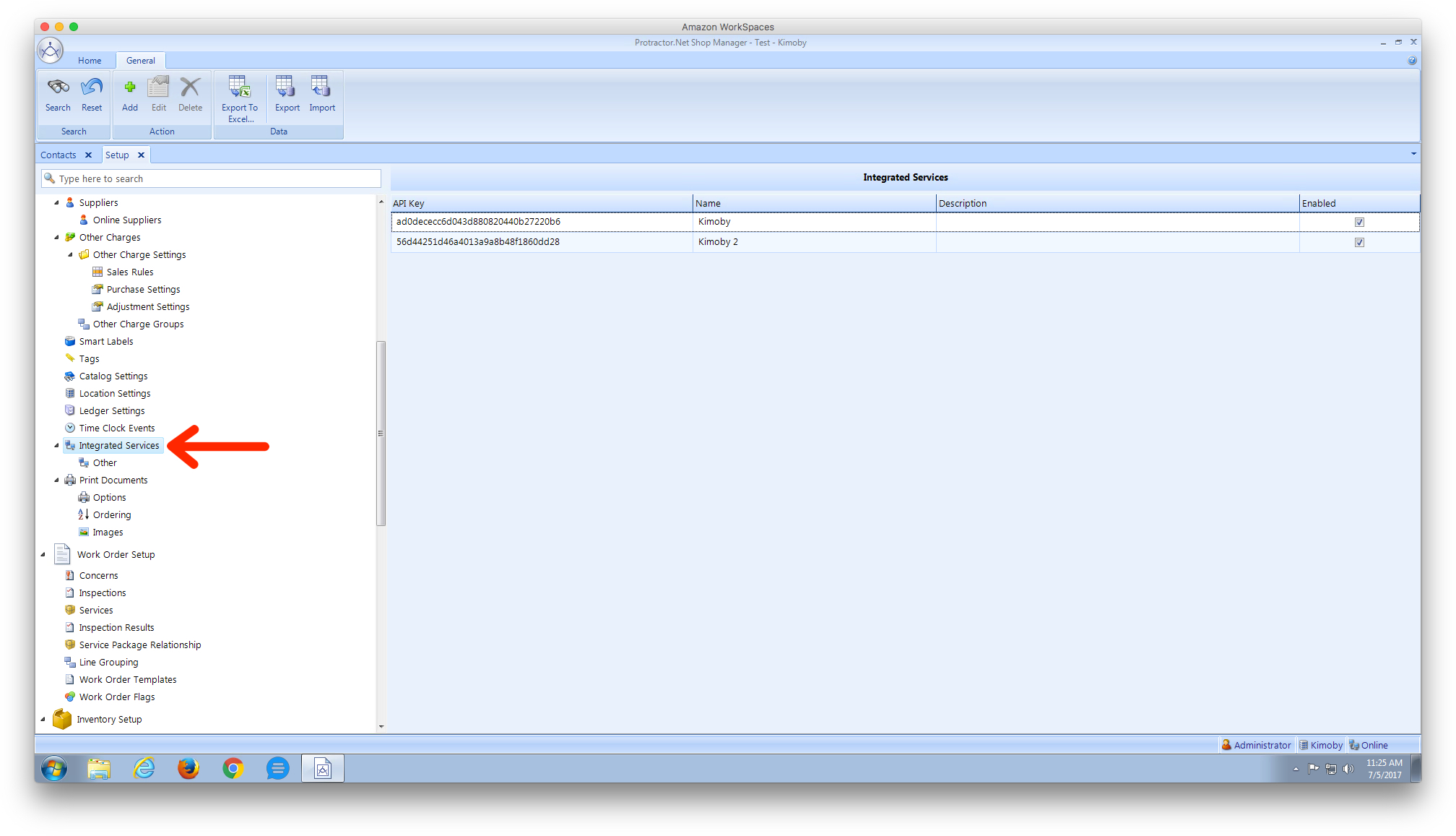 3. Click on "Add" on the top bar to create a new integration.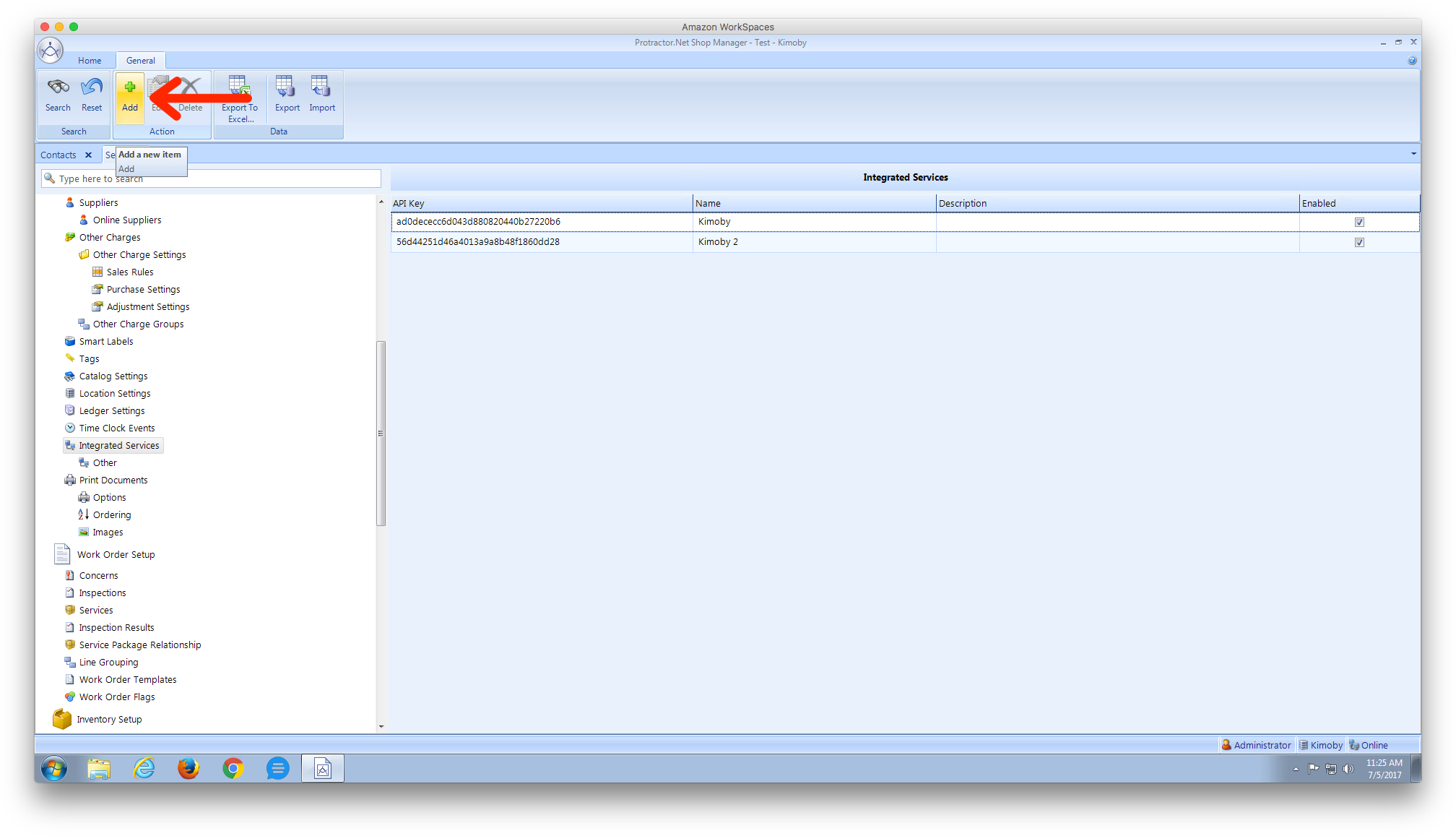 4. A window will pop up with pre-made integration keys. Enter "Kimoby" in the name input. Once you see the popup with the keys, copy three keys from here into an email to send.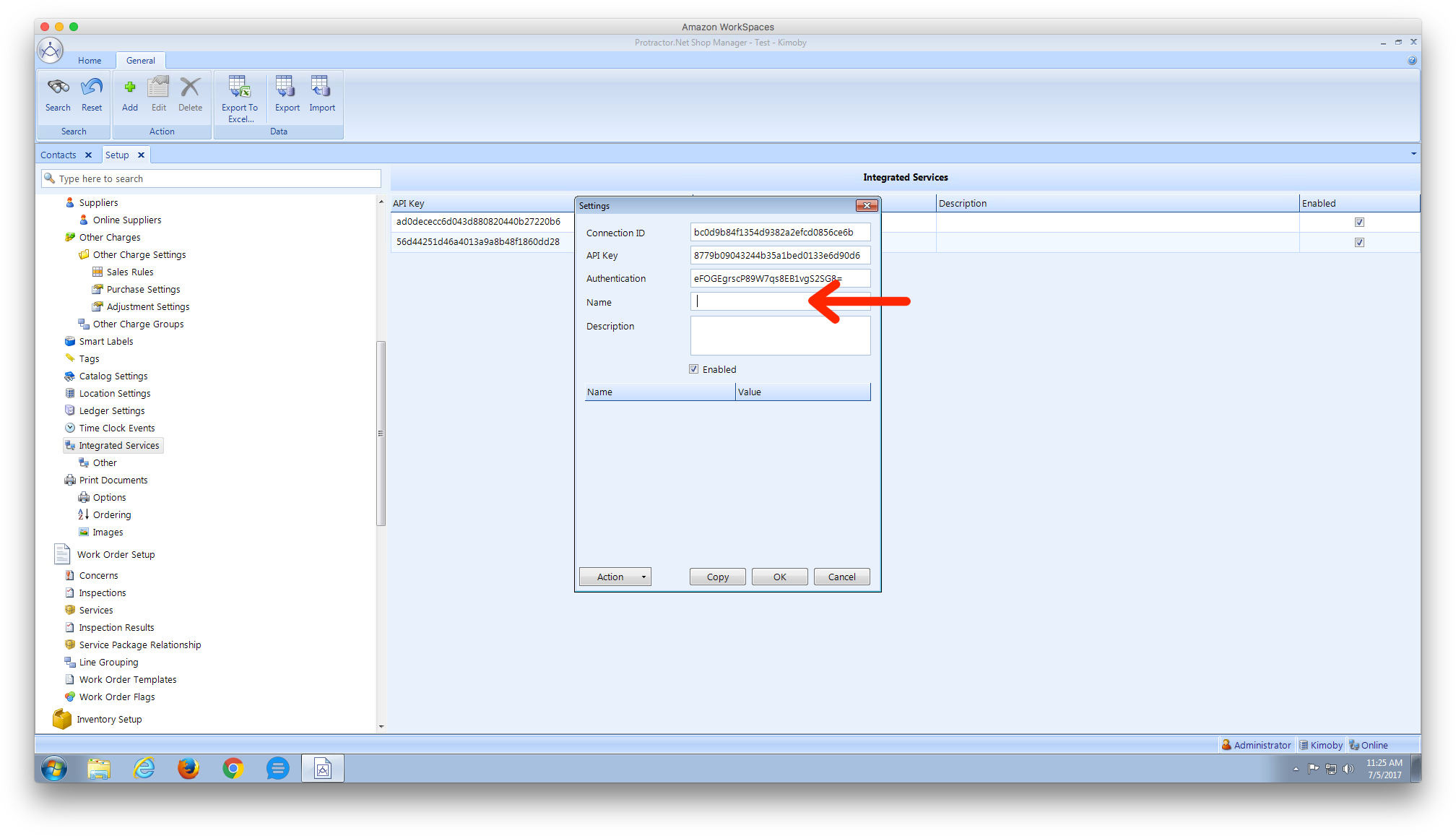 5. Click on the "Ok" button to save the new integration.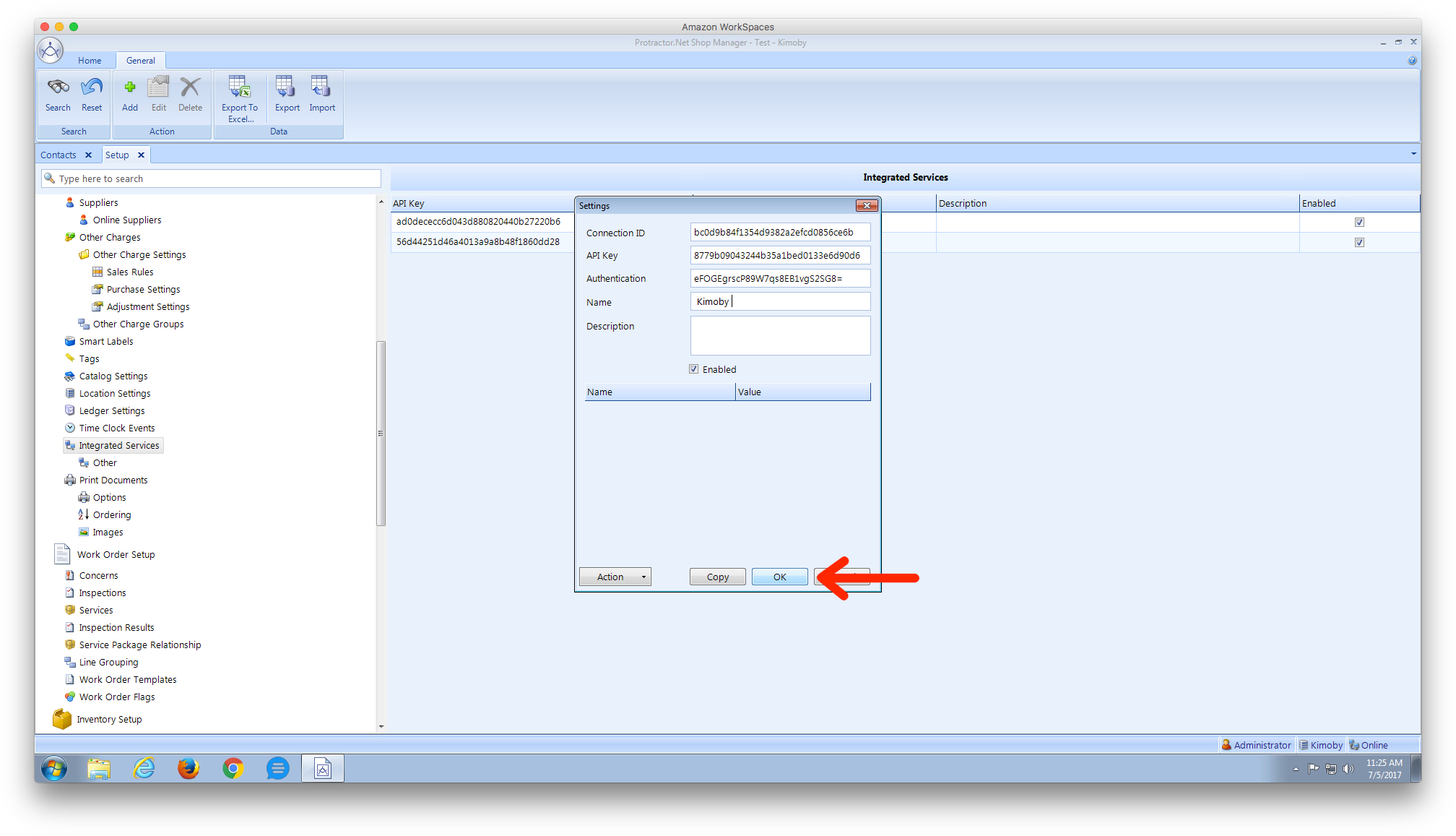 6. Now just send the Keys via Email to support@kimoby.com.
After having completed this process, it will take a few hours for the integration to be completed. However, the data and information being imported to Kimoby from Protractor will be imported gradually until all data has been imported into Kimoby. It may take a day for this import to complete, but you can use Kimoby fully even if the process is incomplete.