This metric shows the total number of text messages sent to customers, throughout Kimoby, including all automated messages.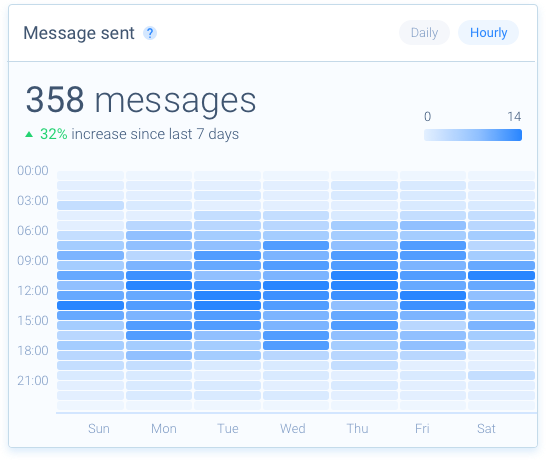 In this metric, you can see that 358 messages were sent in the last 7 days.
There was a 32% increase in the last 7 days which means that, there are more messages being sent in the last 7 days.
Also, when displayed hourly, you can see exactly when your team sent the most message per hour.
On the right top corner of this metric, you can see a blue line range, in this case from 1 to 14. This means that, there was a minimum of 1 message sent per hour and a maximum of 14 messages sent per hour.
You can see that the darker the blue gets on the graph, the more messages were sent during that time frame. In this case, the darker blue is concentrated between 9 a.m. to 5 p.m. Meaning that most messages were sent in that time frame.