The fraud-prevention feature in Kimoby Pay can help you evaluate the risk level of online transactions and take the necessary steps to avoid a possible scam.
Throughout the workday, your clients will settle their invoices directly through Kimoby Pay without any involvement from you. Shortly after the transaction is complete, our algorithm will calculate the fraud risk and flag the invoice with a medium-risk orange banner or high-risk red banner. When the customer comes back to the store, verify that their invoice is paid, and if it was flagged as a fraud risk.
If the customer's invoice has a medium-risk alert, it means that one or more security checks fell through. Please proceed with caution and verify the customer's information, such as their address, phone number, and email. If everything checks out, you can thank the customer and move on to the next one.
A high-risk alert points to compelling evidence that is a fraudulent transaction. In this case, verify the customer's information more thoroughly, such as calling their phone number to make sure it is valid and double-checking that their credit card matches the information on file. If there are apparent discrepancies in the customer's information or the customer refuses to show identification, we recommend refunding this transaction through Kimoby Pay to avoid a scam.
Note that there are no alerts for low-risk transactions, but no transaction is risk-free. The best way to avoid fraud is to prevent it, and remaining vigilant for all online payments will keep your business safe. Furthermore, be wary if a customer ask to send a parcel to a non-confirmed address or a postal box.
In-App Alerts
An orange or red banner will indicate the level of risk of the invoice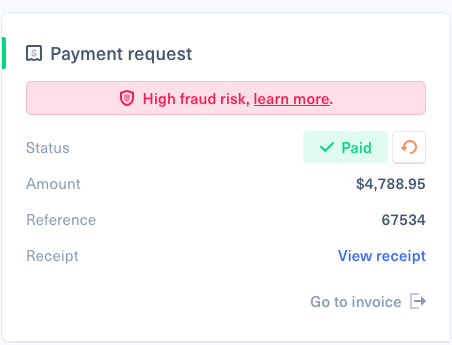 A red or orange icon will appear beside a transaction that is considered to have a high or medium fraud risk.

Click Learn more for the next steps. A pop-up will appear with a verification checklist.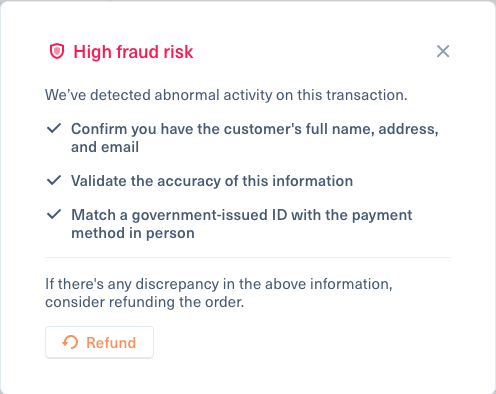 If there is any discrepancy in the buyer's details, consider refunding the order. For a high-risk transaction, take the additional step of confirming the buyer's identity in person by asking for a government-issued ID that matches the information from the payment method.
Issuing a Refund
If any online payment seems suspicious, issuing a refund is the best course of action. Find out how to issue a refund here.