This metrics shows the total number of appointment reminders sent to customers compared to the total number of times customers confirmed their appointment with a reply containing the word YES, cancelled their appointment with a reply containing the word NO, replied with anything other than YES or NO, or didn't reply at all to the reminder message.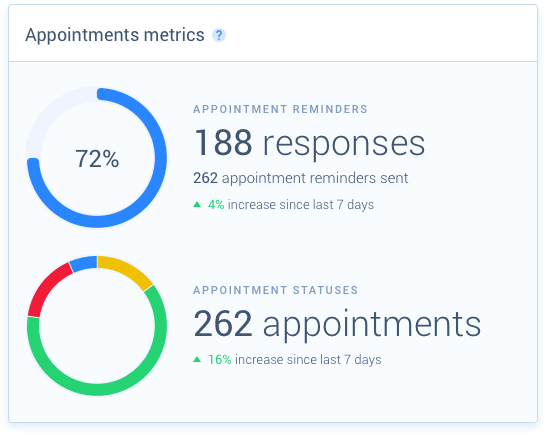 In this metric, you can see that, you got 188 responses out of 262 appointment reminders sent, which is 72% response rate.
There was a 4% increase in the last 7 days which means that, more customers are answering their appointment reminder.
In the appointment statuses, you have the total of all appointment in your account and the percentage of increase or decrease compared to the previous period, in this case, a 16% increase.
Then, in the graph, you have all the different statuses of those appointments. By going over each colour with your mouse, you will be able to see each data.
In green: Confirmed appointments.
In yellow: Not confirmed appointments.
In red: Canceled appointments.
In blue: Rescheduled appointments.